Revenue cycle management is the foundation for a successful healthcare organization. However, inaccuracies in medical coding and billing cost hospitals and medical practices billions of dollars per year. As the industry continues to see rapid growth, the number of uncoded accounts, denials, claim edits, and medical necessity issues have magnified and become much more difficult to manage. Autonomous coding, an innovative, fully automated, and completely transparent approach to coding, promises optimized coding processes for a healthy and cost effective revenue cycle.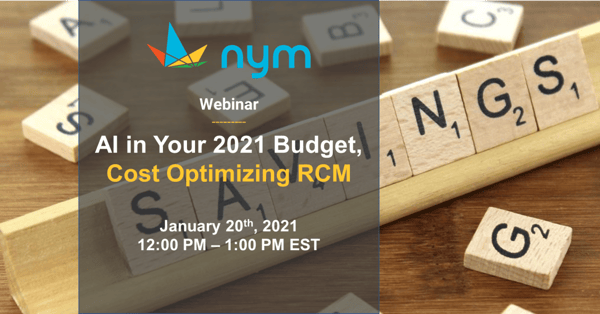 Costs of Manual Coding
A healthy revenue cycle is critical to the overall success of an organization, and medical coding plays a key role in this process. Unfortunately, there are many challenges with medical coding. Manual coding is expensive, prone to error, and time consuming. Low quality, poor performance, provider and organizational loss due to denials, and inconsistent practices have further caused administrative and analytical costs to increase year over year. Facilities must also consider the annual cost of appeals and contract labor expenses necessary to support vacations, backlogs from paid time off, and census spikes.
One of the most difficult challenges with manual coding is the number of coding errors, and/or low quality scores. A survey conducted by BESLER and HIMSS Media maintains that eighty-four percent of respondents felt that clinical documentation and coding posed medium to high risk to their revenue cycles (See Figure 1).

Figure 1: Clinical Documentation and Coding are Key Areas of Vulnerability for Lost or Decreased Revenue
A coder's job is to apply codes that are supported by the medical record and to ensure the assigned codes are reported at the highest level of accuracy and specificity. To achieve this, coders must have strong knowledge of the Official Coding and Reporting Guidelines and medical terminology for both diagnosis and procedural coding. Under coding and over coding can occur if a coder lacks the knowledge necessary to appropriately assign the correct codes supported by the medical record documentation. Under coding is when a code is reported to reflect a procedure that is less extensive, or expensive, than the procedure that was actually performed. Over coding is when a code is reported to describe a procedure that is more extensive, or expensive, than the procedure that was actually performed. Both are considered fraudulent and can lead to in depth audits or investigations.
Coders must stay up-to-date on all coding and guidelines changes. Even the smallest of change can significantly impact code assignment. Understanding a variety of codes, anatomy, medical conditions, and technical terminology is difficult. Coding guidelines in addition to Current Procedural Terminology (CPT), and International Classification of Disease (ICD) codes change annually creating a wide margin for human error if coders do not receive proper training.
In addition to coding quality, coder productivity poses direct threat to an organization's bottom line. The average emergency department coder codes 15 charts per hour, which equates to about 120 charts per day per coder. When production drops below benchmark, the organization is at risk for backlog and delayed reimbursement. In most cases, when an organization has a backlog of records to code, the issue is almost always due to inefficient workflows and/or understaffing in the coding department. Coders today come at a premium rate, and hiring, training, and retaining top talent has its costs.
Clinical Documentation Improvement (CDI) is another major factor in manual coding. In fact, a single piece of missing or insufficient documentation can make a huge difference in the patient's code assignment leading to delayed or missed revenue. CDI has played such a key role in quality that some organizations have implemented Clinical Documentation Quality Improvement (CDQI) programs to improve documentation. . These programs go beyond audits and QA to improve coding levels and code specificity, optimize physician queries for validation, and increase physician education on how to improve documentation.
Total cost of medical coding is on the rise, and they come from more than just coder FTE costs. To determine the total cost of manual coding, leaders must consider denials, the cost to appeal denied claims, coding errors, inadequate workflows, deficient medical record documentation, poor performance, audit costs, and contract labor. These costs together make up the total cost of manual coding.
Autonomous Coding
Healthcare organizations are looking towards AI to simplify the manual coding process to improve the efficiency of billing and coding operations,,. Although it has not been without challenge, hospitals across the country have implemented computer-assisted coding (CAC) with the hope of improving their revenue cycle processes and outcomes. While CAC is a step above manual coding, it falls short of the coder's expectations. In fact, many leaders were forced to implement workarounds to offset some of the challenges they encountered post CAC implementation. Just as the industry began to accept its shortcomings, as a trade off for greater efficiency, Nym Health broke into industry and released autonomous coding. Through Clinical Language Understanding (CLU) technology, Nym is helping facilities improve workflows by using a web-based system that analyzes physician documentation and automatically suggests relevant medical codes that are supported by the medical record.
Catapulting AI to the next level, Nym Health combines Machine Learning technology with CLU, transforming revenue cycle efficiency by eliminating down-coding, reducing denials, optimizing operational expense, and accelerating payment cycles. CLU is Nym's groundbreaking technology that facilitates fully automated coding with zero human involvement by capturing the full clinical picture of the patient record. The CLU engine captures the narrative of the patient's medical record and then recreates the patient's encounter by identifying the logical relations among the varying linguistic components of the chart. This complete understanding of the patient's visit enables Nym's technology to assign accurate medical codes for claim submission.
Processing at a rate of thousands of medical records per hour, autonomous coding technology significantly increases the efficiency and speed of manually coded records while maintaining an accuracy rate of over 98%. High quality coding means that charges get out the door quickly and correctly, resulting in elimination of down coding, decreased denials, and faster payment cycles.
Conclusion
Revenue cycle management remains an area of heavy scrutiny. Manual coding processes have proven problematic in areas of quality, productivity, workflow inadequacies, and cost. Adoption of AI technology completely automates coding, mitigates known barriers, solves for unnecessary costs and time consumption, and reduces downcoding and the risk and cost of claim denials. Autonomous coding plays a critical role in improved revenue cycle performance. It streamlines the hospital or practice's revenue cycle by generating medical codes in real-time with no human intervention, dramatically reducing billing cycle times and costs. Talk to us about what you can do to take advantage of these benefits.
---
References:
BESLER and HIMSS Media Partner to Uncover Today's Hospital Revenue Cycle Vulnerabilities and Opportunities:
https://henrykotula.com/2019/02/13/clinical-documentation-and-coding-top-revenue-cycle-vulnerability/